Introduction
This page is written, drawn and designed by PiP student Gemma Kitchen.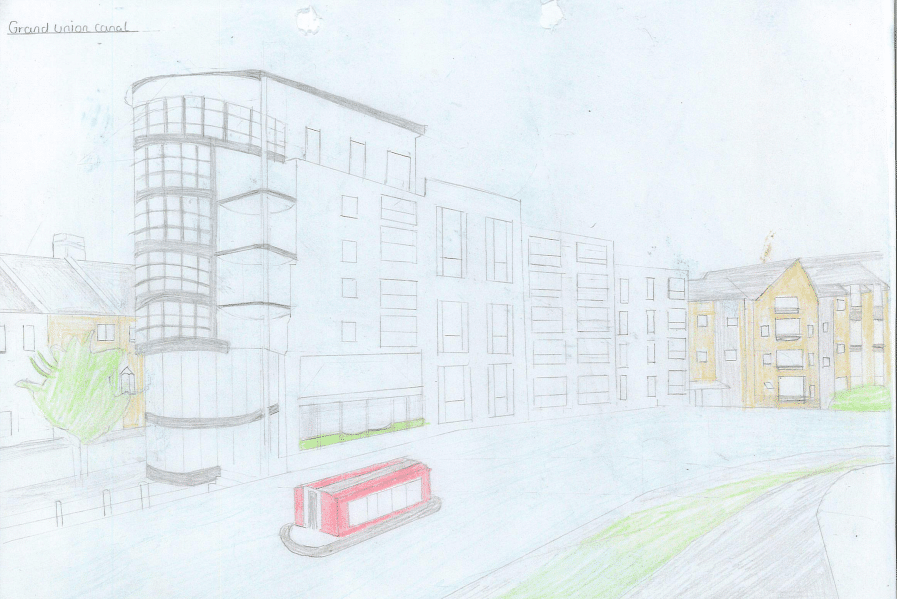 PiP's new centre is on Kensal Road. Kensal Road is located in the Royal borough of Kensington and Chelsea and part of North Kensington.
It has a famous tower block next door on Golborne Road called the Trellick Tower (image below). It has two parks – Meanwhile Gardens and Emslie Horniman Pleasance Gardens which is where the Notting Hill Carnival starts.
Kensal Road is right next to the Grand Union Canal (see picture above) and there used to be public baths on the road which were built in the 1890's and survived until the 1970's and is now new housing.
The Grand Union Canal was built in the late 1800's and links London to Birmingham.
The blue footbridge which is still there today was nicknamed the Halfpenny Bridge because it cost half a penny to cross.  The canal was used for trade and also to transport coffins to Kensal Green cemetery.
There are shops and cafes on Kensal Road and now at number 306 there is PiP!
Trellick Tower
Trellick Tower was designed by the Hungarian architect Erno Goldfinger. It is 31 storeys high and 98 metres tall.
He might have been friends with the James Bond author Ian Fleming and they fell out so he was a baddie in James Bond stories!
It was opened in 1972 and is a Grade 2 listed building; which means it is protected and of special architectural interest.
It is part of the Cheltenham Estate and is a residential building.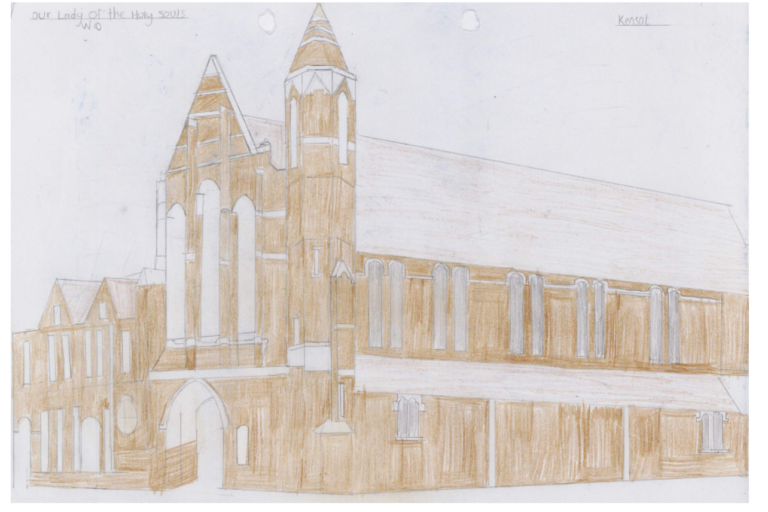 Our Lady of Holy Souls Church
The church is a fine lofty red brick Roman Catholic church.
Lots of the buildings on Kensal Road are made from the red brick.
It was established in 1862 and consecrated in 1882 and is still a church today.  It cost quite a lot of money to build.
It is also Grade 2 listed.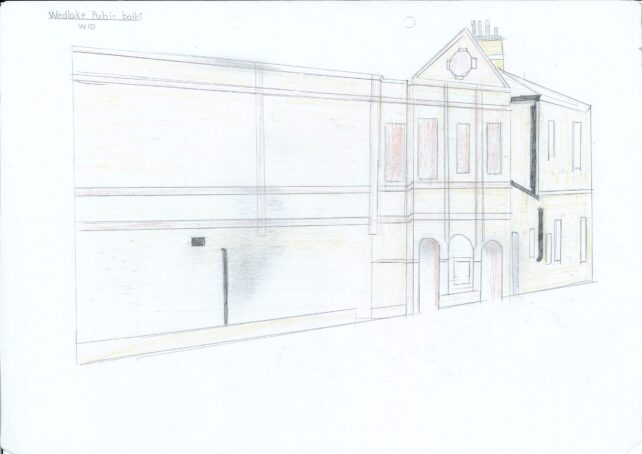 Wedlake Public Baths
Next to the Halfpenny (blue) bridge, there used to be Wedlake Public Baths.
It had a swimming pool and public baths. People didn't have a bath in their own home.
It was built in 1898 and closed in 1980 because of the Jubilee Sports Centre.
Today it is all houses and offices.
The people of Queen's Park used to have a weekly bath here (today we have a wash every day 🙂 ).
Lads of The Village
The excellently names Lads of The Village pub was later known as The Village Inn, and by 2014 became a wine bar called Frames. The building is currently intact but is now boarded up and awaiting further development.
The White Knight
For many years one laundry remainded in Kensal, The White Knight. A family business with premises that went from Kensal Road back to Conlon Street providing employment for many and sadly closed it's doors last year. The laundry is still a thriving business but no longer based in London.
The above drawing shows the petrol station that The White Knight operated on Kensal Road. Across Kensal Road can be see Askeys premier buscuit company, famous for their ice cream wafers.
A short history of St Thomas Church