For anyone who is unfamiliar, Fruitful is a mouth-watering initiative from Pursuing Independent Paths (PiP). It provides a brilliant way for our students – adults with learning disabilities and autism – to gain super valuable life, vocational and communication skills – whilst getting actively involved in the community.
Fruitful follows a structured training programme designed to give trainees experience in customer service, hygiene, juice preparation, marketing and money skills. It's a fantastic way for PiP students to showcase their talent and prove to the world that they can be a valuable asset to any organisation as a paid employee.
Meet Narjis
Today, we got the opportunity to chat with a member of the team. Narjis has been at PiP for six years and she kindly found some time in her busy Friday schedule – in between Fitness, lunch, Makaton and a Student Social! – to fill us in on all things Fruitful.
For Narjis, Fruitful is all about raising money for PiP and learning new juice recipes (her favourite is a classic apple). She's learnt lots about preparing ingredients for juicing – including safe ways to chop fruit and veg.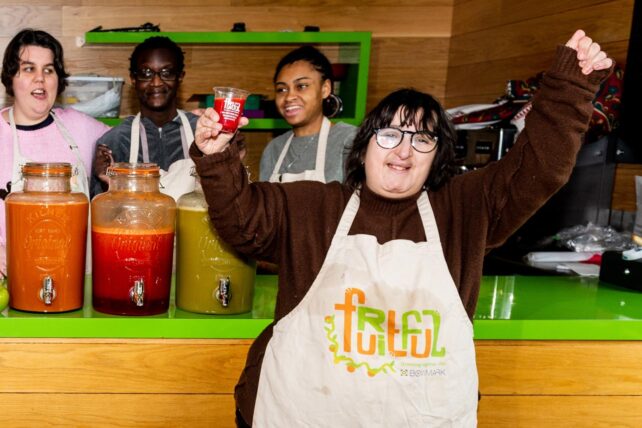 As part of her Fruitful training, Narjis also learnt about what flavours work well together. Fruitful introduces trainees to new recipes, ingredients and processes, so that they can create popular products that sell (and keep customers coming back for more…!)
Narjis is a big fan of the outdoor markets Fruitful attends. She particularly enjoys handing out leaflets and chatting to passers-by – as this provides an opportunity to make conversation and bring in more funds for PiP.
A key element of Fruitful involves learning to handle money responsibly. This means being able to confidently give the correct change and use the credit card machine. Narjis explained that working with money was something she particularly enjoyed about Fruitful – as she likes knowing that she's making lots of money for PiP!
In the future, Narjis can imagine working in a job that involves helping people. She likes being out and about – maybe working in a market or a café – as this would combine her people skills with her knowledge of juice making and flavours. Like us, Narjis is keen to get back out into the community with Fruitful as soon as we can.
Thanks so much for your time Narjis!