We feel it is incredibly important to support children and young people to understand more about people with learning disabilities and autism of all ages so that they can help them be seen, accepted and valued in our society.
We'd love to partner with your primary or secondary school to raise awareness of and amplify the voices of adults with learning disabilities.
Charity of the Year
If you are thinking about your next Charity of the Year partnership then we would love you to choose PiP!
We have lots of ideas and resources for schools and would be delighted to speak to you about how we can work together!
School Assemblies
We can offer someone from our Fundraising Team and our Student Representatives to come and talk at one of your school assemblies. We have lots of great videos to help bring the talk to life, which are very accessible for a younger audience to explain how we help people with learning disabilities develop and achieve their potential.  We can also tailor sessions to link to your curriculum around diversity, inclusion, enterprise and more!
Fruitful
Our juice stall social enterprise can pop up at your school or college and also offer the opportunity for your pupils to work alongside our students making juices together.  It not only is a great way of raising awareness of learning disabilities, but it's also can be linked to making healthy choices and employability skills.
Work experience and volunteering
We know how valuable work experience and structured volunteering is for young people to get ahead. We'd love to chat to you about work experience exchanges and how we can support your pupils and you can support ours.
Please contact Claire our Community Fundraiser if you'd like to discuss more about how we can work in partnership.
PiP Partnership : Paddington Academy
PiP and Paddington Academy have a long history of working in partnership across all year groups in the school.
One of our PiP students' favourite sessions is Basketball (pictured right). Paddington Academy Sixth Form students undertaking their Duke of Edinburgh Award teach a weekly Basketball session to 10-15 PiP students, helping them to learn about the sport, develop co-ordination and keep active in a fun way.
Paddington Academy also host Fruitful, our vocational training social enterprise which supports our students to develop employability skills.  We've popped up at parents evenings to give visibility to learning disabilities in the community, to start to build awareness with parents with children with special educational needs and to show the adults with LD/autism want to and can work.
Last but not least, we also host an annual sponsored walk with Year 7 and 8 who raise funds for PiP and our student reps attend School assembly to talk about our work and it what its like to live with a learning disability/autism.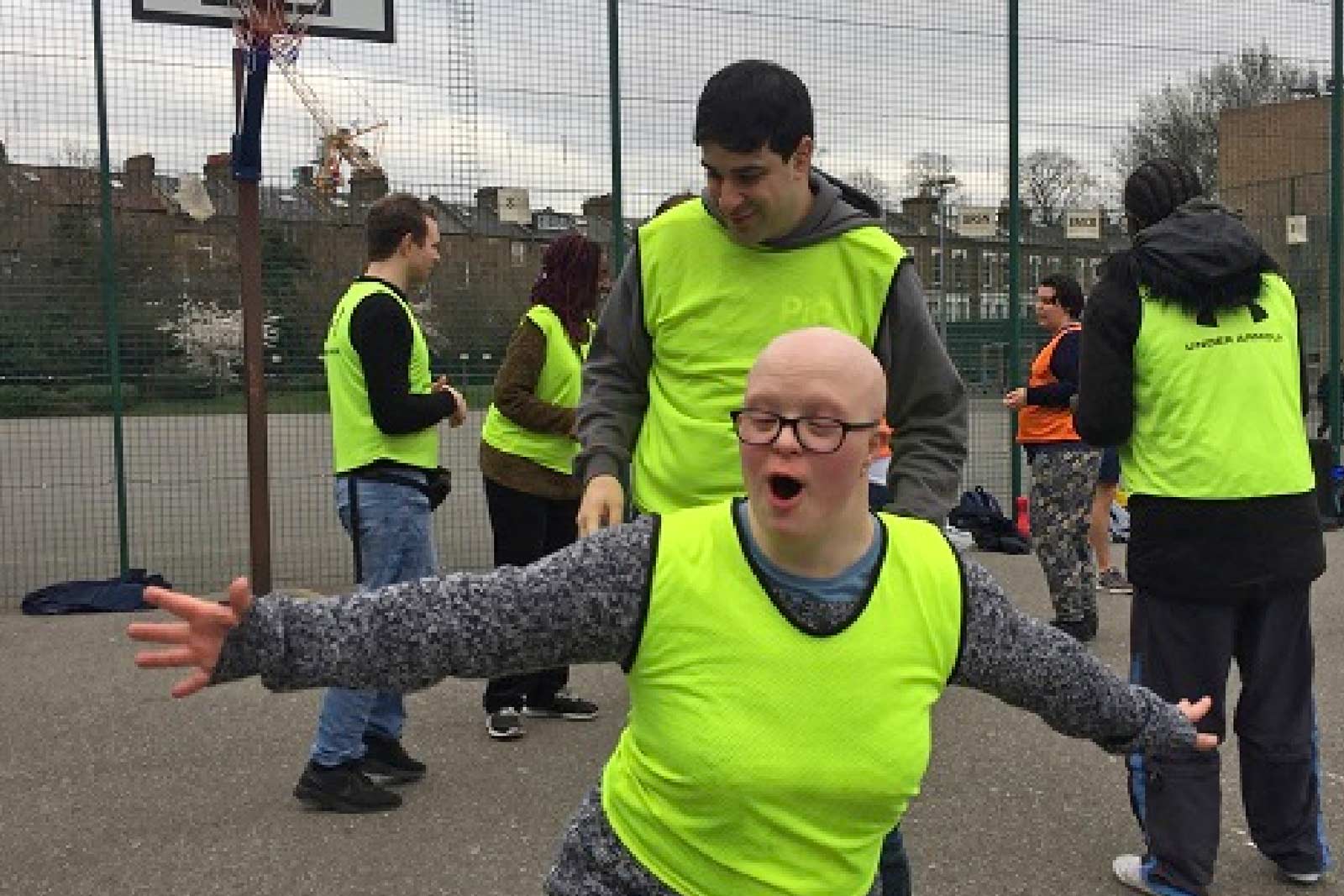 PiP Partnerships: Queen Elizabeth II School
QEII school are a special educational needs school working with young people with moderate-complex learning disabilities. Many PiP students used to attend QEII school themselves.
We have a fledgling partnership with the school that we are starting to build on. For example, last year, our Cabaret group attended QEII and local primary schools with their sketch show. This shows adults with learning disabilities having fun, working alongside non-disabled people and providing role models to young children with SEND (image right).
During lockdown, we have also invited QEII students in the sixth form to sample our online sessions (Art class sample image below).  This is a small step towards a possible transition for QEII students who want to move towards independence and potentially work.
What do you want to know?
Whether you want to know more about… and add some more text here!